Last night I signed up to watch Jon Stewart debate Bill O'Reilly.
Only that didn't happen. The website worked well enough when it took my $5, then immediately became inaccessible.
I wasn't alone.

I was finally able to watch the last 30 minutes of the event. What I saw was great, much better than the first presidential debate. I decided to just download it the next day, which was included with the $5 fee.
This morning, this message appeared on the site:
We understand many viewers had difficulty streaming the debate when it began. These issues have been resolved and the show is now available both on-demand and via download. For anyone who was unable to view The Rumble live and no longer wishes to do so, refund information will be available early next week. We regret any inconvenience this may have caused.
Great, I'll just login to download the video...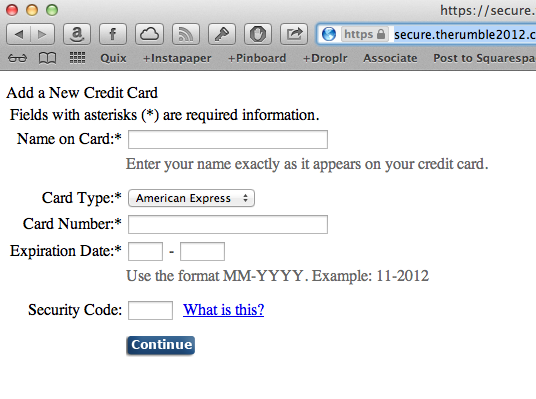 What the hell? I've already paid! Give me my damn video!
So I use the support form to contact them. Here's what I received:
Dear Josh Centers,
Ticket Number: (=)37802834(=)
Ticket Status: **Closed (Please REPLY to this email if you need further assistance. A Customer Service representative will respond within 24 business hours.)
Thank you for contacting the Customer Service Team at TheRumble2012.com.
**This list of suggestions was generated automatically based on the Help topic title you selected. **
What followed what a list of generic technical advise, like enabling javascript and installing Flash. Of course, this doesn't do anything to solve my problem, so I reply to the email, like I'm told to do. Here's what I got in return:

This is absurd. Nox Solutions, the company responsible for the event, is completely and utterly incompetent. I've seen screwups of live streams before (UFC), but this is on a completely new level. I'm now out $5, have only seen a third of the event I paid for, can't download a legal copy of it, and have absolutely no recourse.